Medicare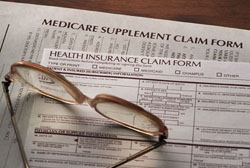 At Preservation 1st Financial Group, LLC one of our specialities is working with seniors. Medicare and the costs of health care is one of the major concerns seniors have.  We pride ourselves in our knowledge of the options Medicare recipients have when it comes to filling in the gaps that Medicare leaves.
Below is a list of health care options for people who have Medicare Parts A & B:
Medicare only- You pay all the deductibles and co-pays out of pocket, with no prescription coverage (you need a Part D plan to receive prescription coverage). If you "opted out" of Part B, then you are alo responsible for 100% of Part B costs.
Employer Benefit- In this circumstance you have an employer benefit whereby you receive supplemental help with Medicare premiums, deductibles, and co-pays. You might pay a premium for this coverage, or your current or former employer might pay the whole premium. It could have other benefits including prescription coverage, preventative care options, dental, vision, and hearing cost assistance. Many times these programs are managed care programs and require a network of doctors, hospitals, and other providers.
VA Benefits- A veteran could use VA benefits to supplement his/her Medicare benefits. Typically the veteran would be required to use VA facilities, doctors, and prescription plans. Co-pays can vary based on a veterans financial circumstances, and many veterans get there health care coverage at no cost. Contact the Veterans Administration for eligibility, benefits, and costs.
Tricare for Life- This program initiated October of 2001, is for retired veterans and supplements the Medicare eligible benefits. This plan is usually the best option for those who are fortunate to have it.
Medicaid- This is a financial need based assistance program administered by individual states. it is based on income/asset status and could cover various elements of the Medicare "gaps." Typically Medicaid helps with some combination of the Part B premium, deductibles, and co-pays. Up until January 1, 2006, Medicaid assisted with prescription benefits; however that now has been shifted over to Medicare.
Individual Medicare Supplement- There are several federally standarized supplemental plans offered through private insurance companies. Also called "Medigap Policies", these policies help to pay the deductibles and co-pays ("gaps") not covered by Medicare. There is usually a premium for these types of plans and they normally range anywhere from $100-$250 per month. The more benefits desired, the higher the premium charged. If a supplement is not chosen within the 6 month "open enrollment period", health underwriting is usually required by most insurance companies after that timeframe. Standard plans cover any doctor or hospital, anytime, and anywhere in the U.S.A. Select plans typically will provide coverage through a network of plan hostials, therefore allowing lower premiums. Individual supplements "mirror" Traditional Medicare Parts A & B, meaning they only provide benefit on Medicare covered services. Therefore, they do not provide additional benefits such as dental, preventative, wellness options, and more importantly for most beneficiaries, there is no prescription coverage.
Medicare Advantage Plans- This is the newer alternative to the Traditional Medicare Parts A & B. Actually this is Part C, a descendant of the Medicare HMO plans. Typically these plans have no plan premium, but require the beneficiary to utilize a network of doctors, hospitals, and other providers. Many of these plans provide extra benefits like dental, vision, gym membership, and wellness benefits. These plans tend to be a better value as long as you are willing to stay within the plan's network, and could require referrals. The plans and their networks differ between companies, so make sure you choose a plan that fits your situation.  Many Medicare Advantage plans include the Part D prescription coverage required.
Medicare beneficiaries were required to enroll in a Part D prescription drug plan by May 15, 2006 or they would be charged a 1% per month penalty for each month they were not on a Part D plan.  
We represent numerous companies and plans, so we can help you choose which plan is best suited for your health needs and financial budget.